War and Peace Newbies Read-Along Volume I, Part I: Welcome to the SP, bitch
Et bien, mes readers-along, si vous n'avez rien de mieux à faire, go to the master post for the read-along schedule and more.
Leading up to this read-along, I tweeted a joke about Andrei and Pierre being like Ryan and Seth of The OC – a brooding tough guy and an awkward man-child, brought together by circumstances and bromance. Like most offhand jokes I make on Twitter, I was not joking at all, I was deadly serious. Welcome to the S(aint) P(etersburg), bitch.
Before you "um, actually" me, I realize that to truly parallel Ryan and Seth, strong, silent Andrei would have to be the SP newbie, trying to understand the elite society into which he's been elevated, when in fact bumbling Pierre is the fresh meat. So, the roles are a little mixed up. But hear me out. After I finished Part I, I rewatched the pilot episode of The OC and I couldn't make this up if I tried.
Elites and Newpies: The society party
War and Peace opens at Anna Pavolva's salon, and we're immediately made aware of the contradictions and hypocrisies of the early 19th century Russian elite. The talk is of war with the French, but everyone speaks in French, for starters. Vassily Kuragin seems weary of it all. He talks "like a wound up clock, [saying] things that he did not even wish people to believe." Still, he manages to get the ball rolling on a choice appointment for his son Ippolit and a match with a wealthy heiress for his son Anatole. The highlight of the evening is the arrival of Kuragin's houseguest, Pierre, the "fat young man" newly arrived from Paris. Pierre exasperates Anna with his lack of manners and habit of saying what he thinks, but delights Andrei with his naivete. Pierre moons over the beautiful Hélène, thinking he doesn't have a chance.
Ryan's arrival in the OC is also characterized by a society party full of duplicity and hypocrisy. As Sandy Cohen's houseguest, he's the centre of attention at Newport's annual charity fashion show, but finds he's been introduced as a cousin from Boston, rather than a juvenile delinquent from Chino (ew!) Seth tries to warn Ryan about the "Newpies," welcoming Ryan to "the dark side" as they arrive, then spends most of the party mooning over the beautiful Summer, thinking he doesn't have a chance.
As the song goes: after the party, it's the after party.
Pierre and Andrei leave the stuffy elite party to enjoy a late supper, and to indulge in some oppression Olympics, privileged males edition (Andrei likens his marriage to being "a prisoner in irons," while Pierre laments being "sans nom, sans fortune.") Pierre promises Andrei that he'll go straight home after dinner, but ends up at Anatole's for a boys' night in consisting of drinking, gambling, and bear baiting. "Notorious gambler and duelist" Dolokhov takes a bet that involves him downing a bottle of rum while sitting precariously on a third-storey window ledge. Pierre hangs back, and starts boasting that he too will take the bet, once it's all over and no one is interested anymore. That is so Pierre. The boys leave Anatole's and have further adventures, that we only hear about in retrospect, but that get several of the participants banished from St. Petersburg for a time.
Back in the OC, Summer invites Ryan (and Seth, by default) to an afterparty, and the boys find themselves in a similarly debauched scene. This time, Ryan welcomes Seth to the dark side, and Seth remarks, "cocaine. That's awesome." (The OC toned it down a LOT after the pilot episode.) Things go awry when Seth thinks that Ryan is interested in Summer, and vengefully lets everyone know he's not the cousin from Boston, he's actually a car thief from Chino. In other words, sans nom, sans fortune. Bear-baiting having gone out of style in the intervening two hundred years, these drunk young men are forced to take out their aggression on each other. Seth pisses off notorious meathead and puka shell aficiando Luke, and Ryan comes to the rescue, prompting this iconic scene: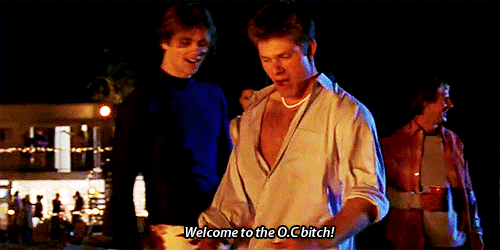 This life is not for me: Escape from the SP/OC
Brooding Andrei leaves for war at the end of Part I. His friends and family have trouble understanding why he wants to go, and so quickly – he seems in a rush.
"Well, what makes you go to war?" asked Pierre.

"What makes me? I don't know. I have to. Besides, I'm going…" He paused. "I'm going because this life I lead here, this life – is not for me!"
Of course, Andrei quickly becomes disillusioned once on the front, but that's for another recap. We don't see Andrei and Pierre together again in this part of the book, nor the next, but the struggle for belonging, to find a home, is established here. Don't worry, we still have like 1,100 pages for more bromance.
Ryan feels similarly disillusioned with the decadence of the OC, not to mention a little sore due to his warm "welcome." He decides to return to Chino, even if that means more abuse or going back to jail. He tries to play it cool, saying he has to "figure some stuff out," but Seth pulls him in for a hug. Aww. The OC being a teen drama, plot twists ensure Ryan is back in Newport almost immediately, but his sense of not belonging in either place is established in this episode.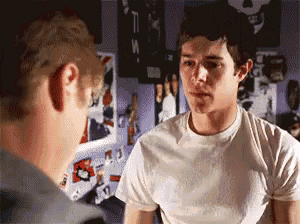 I may have skipped over a few plot lines in War and Peace Part I – Pierre's father dies and he becomes Count Bezuhkov, we meet the Bolkonskys (Andrei's sister and father) and the Rostovs (Natasha and Nikolai in particular,) Boris' mother wheels and deals, everyone appears to be cousins… you know. The usual. We'll get into all that later. Stay tuned for Part II, the first "war part," which I did not skip over. Hope you all like earnest, whiny young men!